DBA Sponsored Jams   (CHECK CALENDAR to see if changes because of COVID)
First and Third Sunday of the month
Udall Park Ramada         7200 E Tanque Verde Road
Enter from Tanque Verde light, look behind the tall block wall by the Rec Ctr
or in Ramada #3 across road from Rec Ctr.
May through October 7-9 pm  (summer schedule)
November through April 2-4 pm  (winter schedule)
Second Sunday of the month
West Side Jam – Christopher Columbus Park         4600 N Silverbell Rd
Enter off Silverbell Rd at the sign, left at the fork to parking lot on the left at north end of Silverbell Lake in one of Ramadas 1-5.
May through October 7-9 pm  (summer schedule)
November through April 2-4 pm  (winter schedule)
For Info email Bob at:  tucsonjam@russman.com

Second Thursday  of the month
Far Horizons Jam  at Pool Clubhouse
555 N Pantano Rd
November thru March at 7:00pm
Tell the gate you are there to play music at the clubhouse.  Note: Performance jam is exclusively for residents of Far Horizons.
For info: Mike Headrick   520-403-0168    mheadrick@aol.com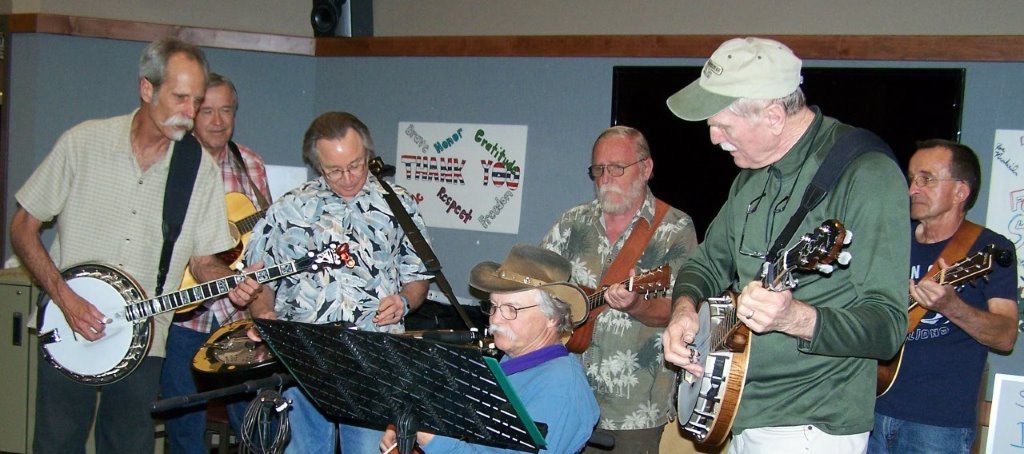 Third Thursday of the month
Trail Dust Town (courtyard by the gazebo)
6541 E Tanque Verde Road
7:00 to 9:00 pm (May – Oct)     2:00 to 4:00 pm (November – April)
For info:  Bonnie Lohman  520-349-4812  basslady78@comcast.net
Third Sunday of the month
Udall Park Ramada
7200 E Tanque Verde Road
See times above.
Fourth Sunday of the month
Thirsty's
North Pantano Road
4:00 to 6:00 pm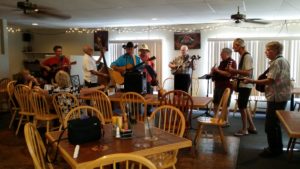 Other Jams (non-sponsored)
Casa Grande Airport Jam. New information needed. It has been reported that Steve is no longer responding.  If no new contact info is sent to desertbluegrasswebmaster@gmail.com by Jan 1, 2o23 this entry will be deleted.
Jam  1st and 3rd Saturday 12:00 p.m. 
Acoustic stringed instruments only. NO amps 
Casa Grande Municipal Airport
3225 N Lear Ave
Casa Grande, Az
12:00 p.m.
Info: Steve Hartwell
steve@arizonabluegrass.com
ORCA Bluegrass Jam
Oracle Center for the Arts
700 E. Kingston St.
$2.00/person
First  Wednesday of the month  September thru April (except holidays)
7-9 pm.
Info: Shay Cardell
520-357-6432
sierra1@desertsky.us
Southern AZ Old Time Fiddlers Assn.
Call for info on place:
Tuesday afternoons
Info: Wilbur
Welsh 
520-743-7086