SOUTHERN COMFORT BAND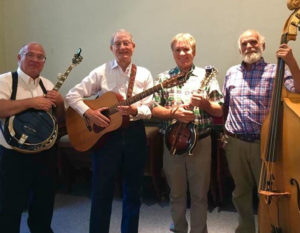 ENJOY THE SOUNDS OF SOUTHERN COMFORT!
The Southern Comfort Band is….
Bluegrass
Old Time Country Music
Swing
Blues, Jazz
Classic Pop and
Very Entertaining 
The band honors the traditions of bluegrass music from Bill Monroe, Lester Flatt and Earl Scruggs,
and old time country music from the likes of George Jones, Merle Haggard and others.
The Southern Comfort Band also takes pride in bringing to audiences new music, original tunes
and fresh arrangements of blues, swing, big band and pop.
The live performances are sure to please all audiences. Each show is full of jokes, stories,
audience participation and, of course, the music. It is all great toe tappin' fun.
This is the Southern Comfort Band.