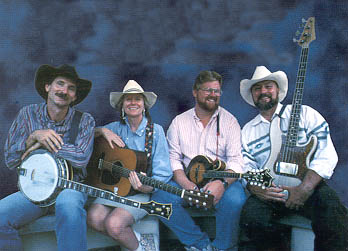 The original four members of Tucson's Out of the Blue bluegrass band have reunited for this year's Marana Bluegrass Festival. Throughout the 1990's and early 2000's they could be heard at local and regional bluegrass festivals and unique venues around Arizona.
In 1998, Out of the Blue earned 2nd place honors in the band contest at the prestigious Telluride Bluegrass festival. Their CD "Granddaddy's Cabin" still receives some radio airplay.
OTB helped usher in the new century (2000) by playing at the Grand Canyon, Arizona New Year's Eve (1999) and New Year's day (2000).
Out of the Blue is Donny Russell, mandolin and vocals; Emmy Creigh guitar and vocals; Tom Poley banjo, guitar and vocals; and Slim Rost bass.
This weekend you'll hear them play an engaging mix of traditional bluegrass tunes as well as their contemporary bluegrass and swing compositions… and, of course, their crazy sense of humor will likely bleed through the mics …
Email: bbhikku@msn.com
Phone: 520 323 0704
Website: www.bluebhikku.com